Renovation of a Haussmanian flat in Marseille's « quartier des antiquaires » steps from the old harbor and the elegant « rue Paradis »
Dentro de las buenas razones para vivir en Marsella, empecemos por nuestro barrio, el de los anticuarios en el centro histórico a pasos de todo lo rico, bonito y entretenido que tiene Marsella…..la felicidad de volver a vivir en el centro y poder olvidarse del auto!
Restauration d'un bourgeois Marseillais dans le 6eme a quelques pas du vieux port et des boutiques de la rue Paradis (paradis pour certaines, le cauchemar pour certains…) et le bonheur de revivre dans un centre ville et d'oublier la voiture..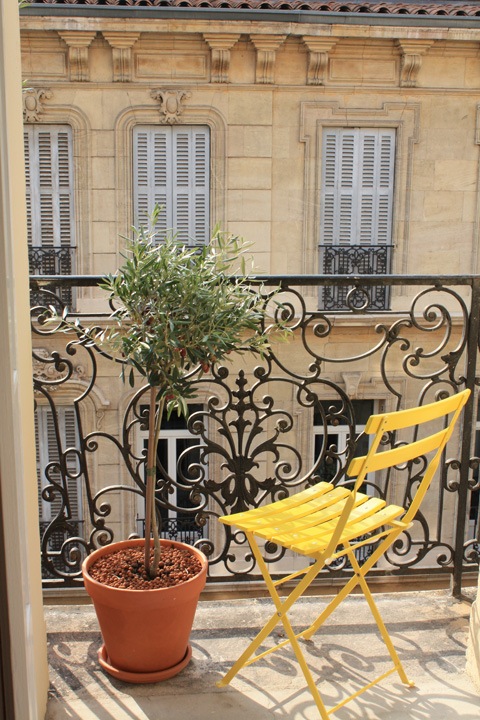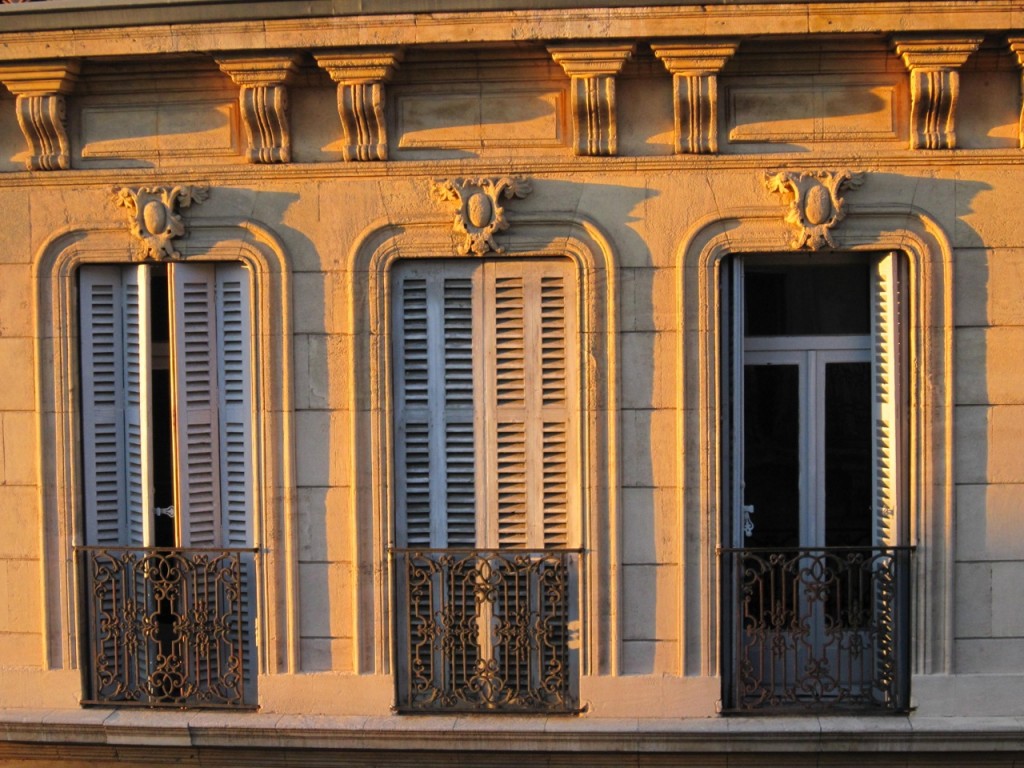 The remodeling of this property allowed for the creation of a loft-style family room with the kitchen at one end, and a sitting area at the other, allowing to cook while taking part in family and/or social life. and enjoying the beautiful view over Marseille's rooftops.
Using one of the very large bedroom and part of the corridor, we created two bedrooms, the ex-kitchen was transformed in tv-room / guest bedroom.
The original doors were reinstalled were needed, sometimes used as cupboard doors, leaving the numerous coats of paint and defects to show as witnesses of the flat's history. A light grey oiled oak floor creates a bright and natural scheme, the furniture and frames bring colour touches to the decorating scheme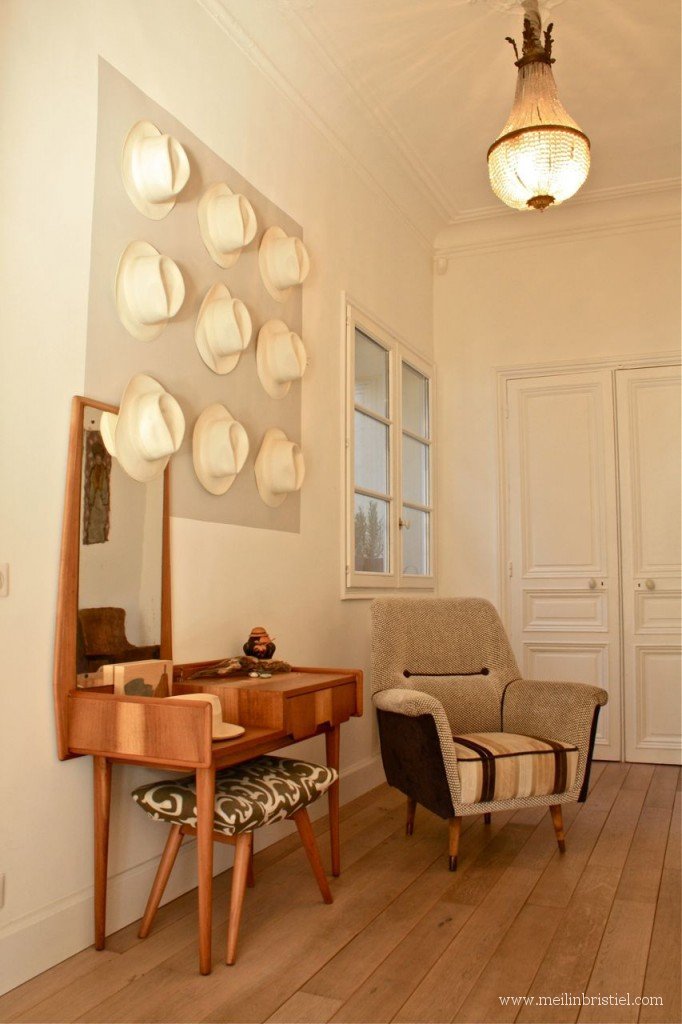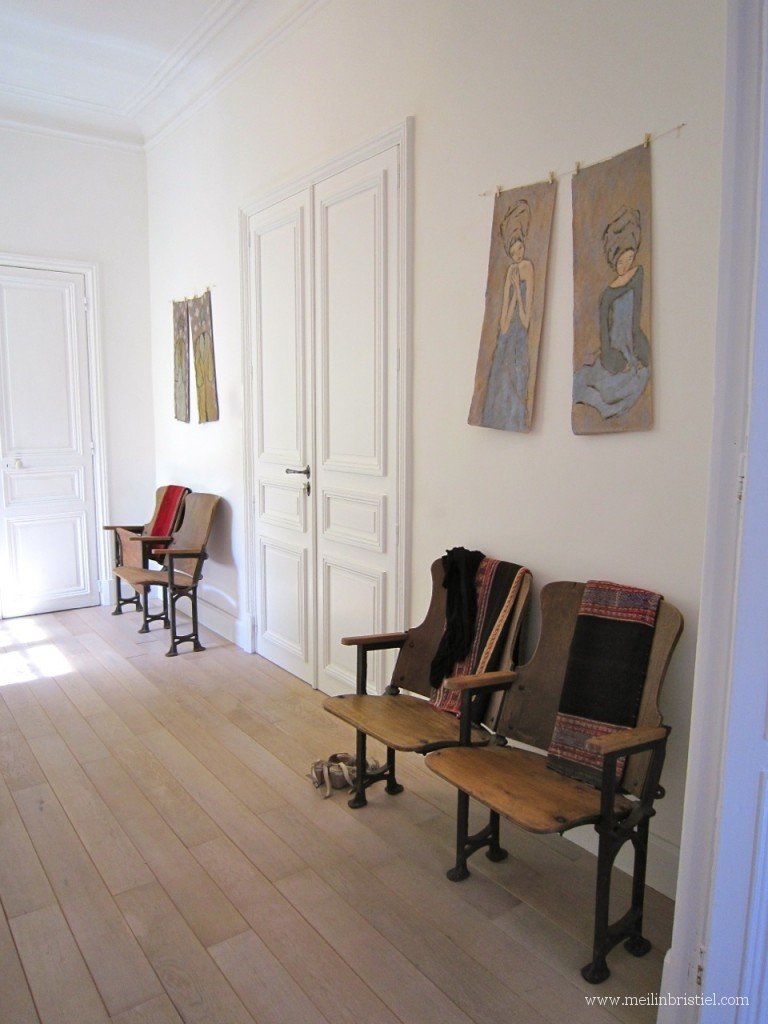 Living/dining room
Before:
After: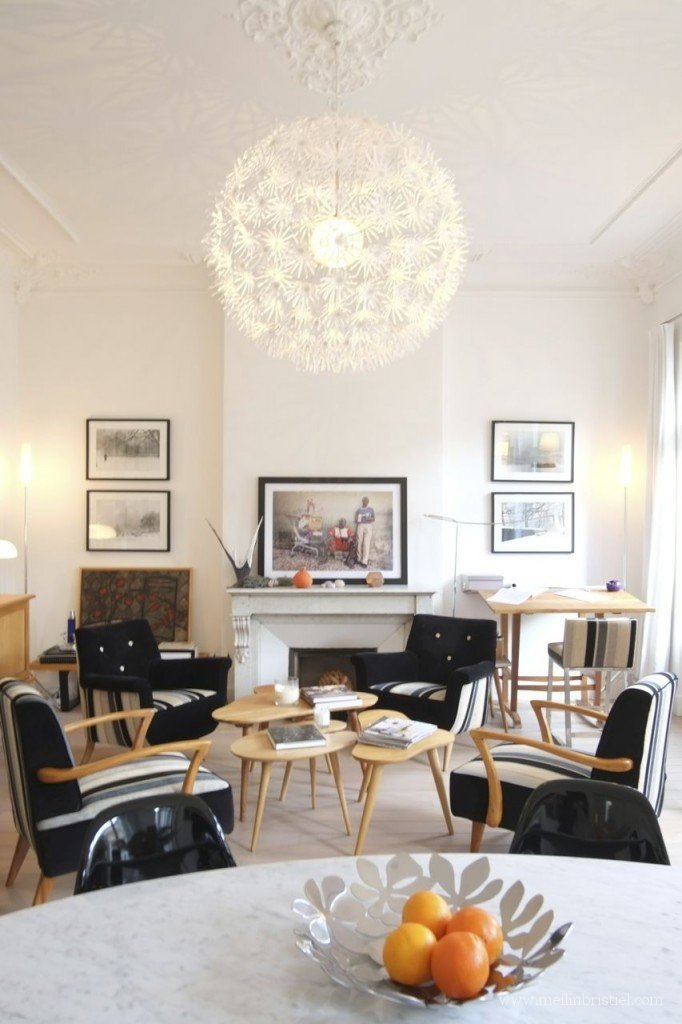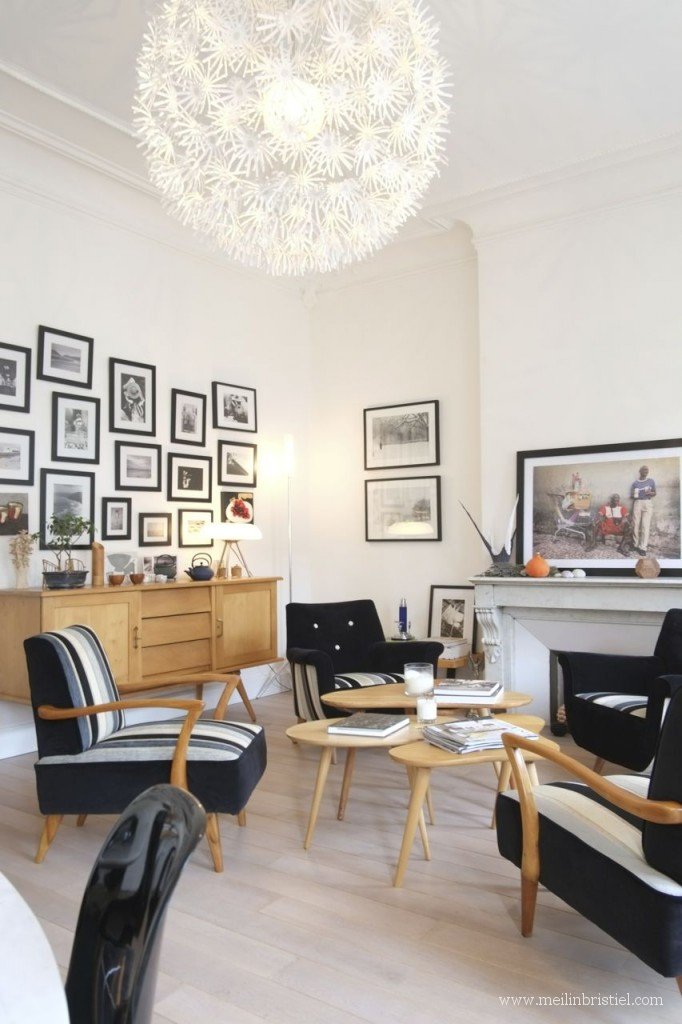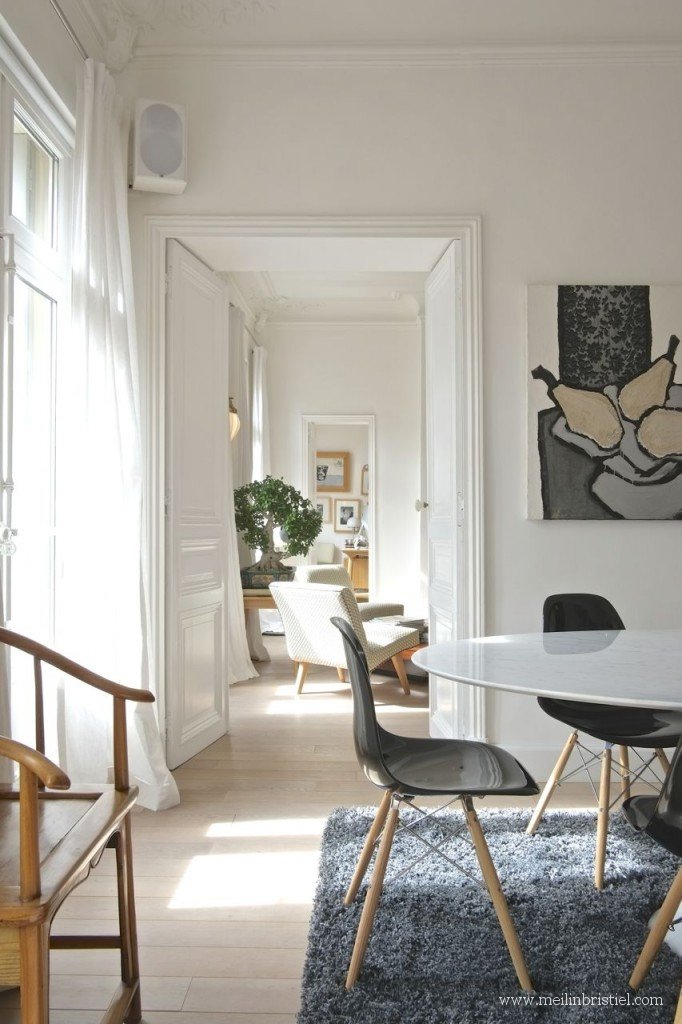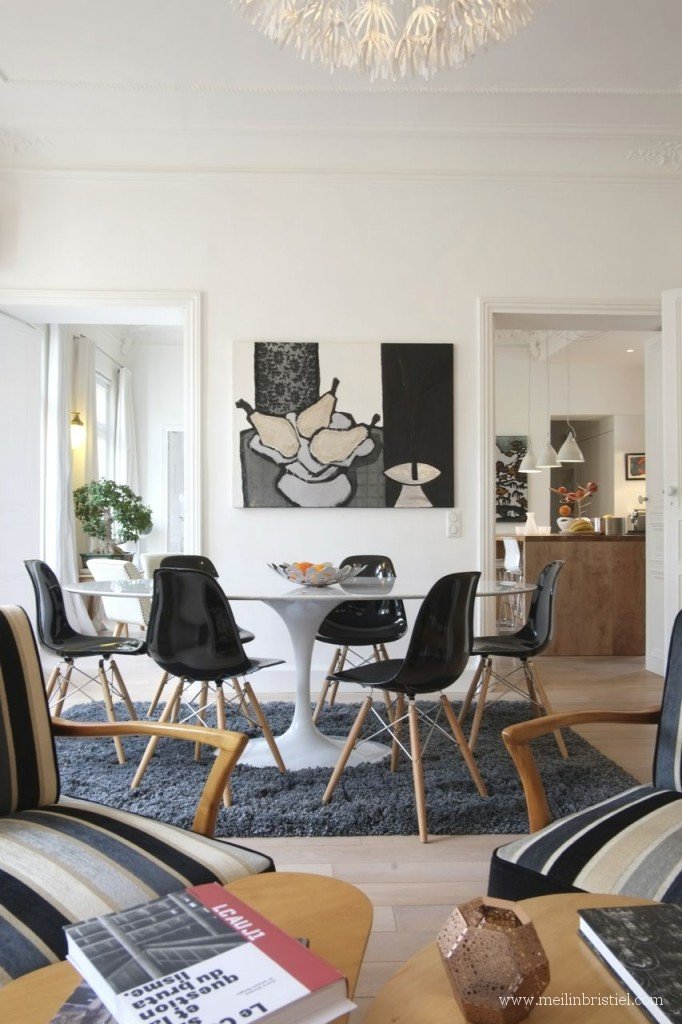 Family room
Before:
 La rénovation permit de relocaliser la cuisine dans la pièce à vivre, creant ainsi une ambiance décloisonnée: on cuisine maintenant en prenant part à la vie familiale et en profitant de la vue sur les toits de Marseille et les facades en pierres taillees. La seconde modificacion importante fut la création de deux chambres a partir d'une immense pièce existante. Un dressing a également été crée dans une partie du bureau, et un coin douche dans la chambre des parents.
L'installation d'un parquet sur lambourdes permit le passage des gaines et la remise à niveau du sol. Sa finition huilée grisée lui confère chaleur et naturel et donne le ton a la décoration épurée, ou seuls les meuble et tableau apportent les touches de couleur.
After: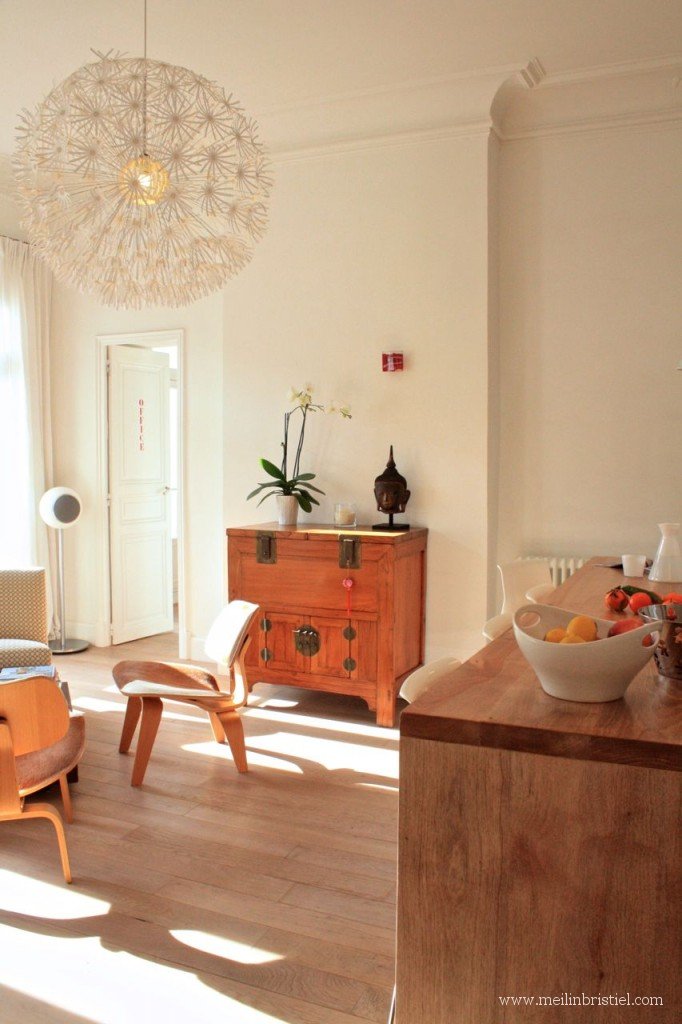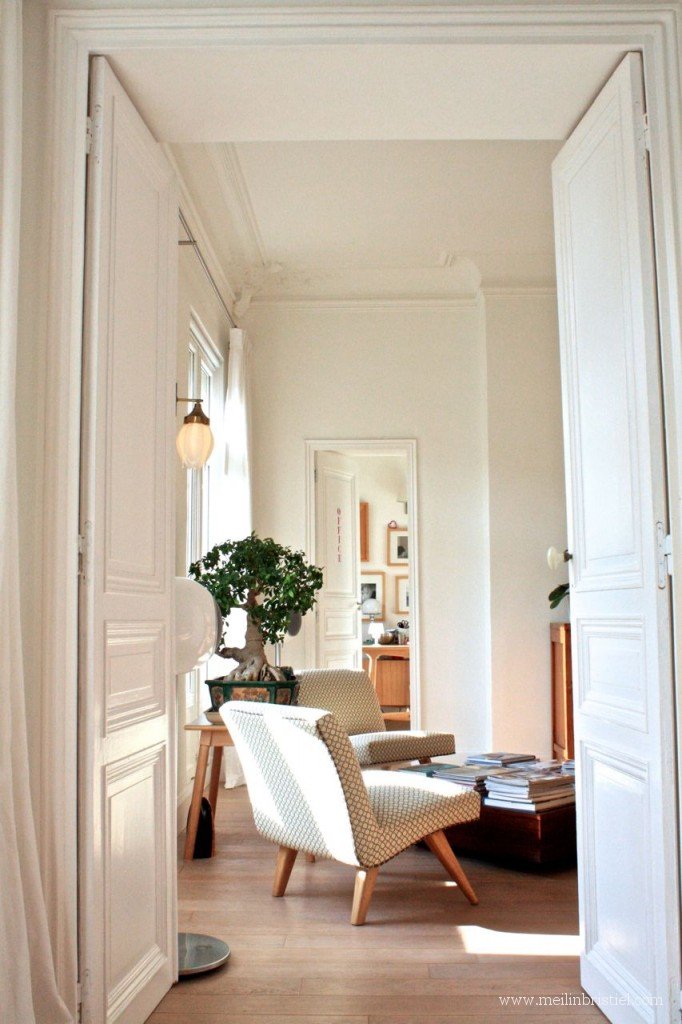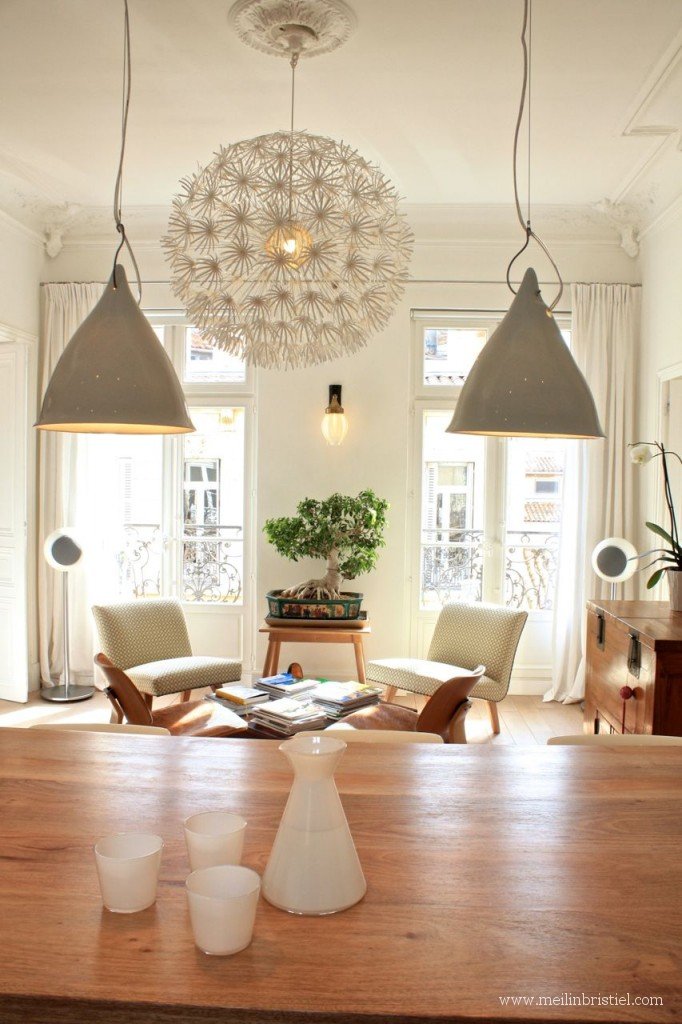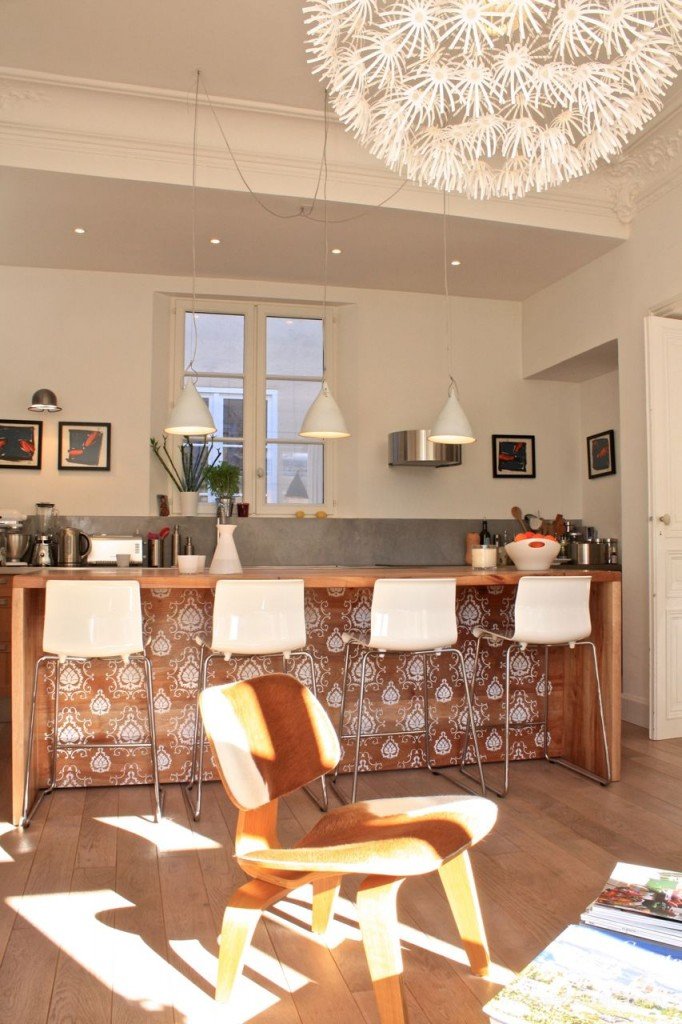 Esta vivienda había recibido muy pocas renovaciones y ningún mantenimiento durante los últimos anos: las cañerías de calefacción central eran aparente,  un radiador tapaba una chimenea, otro una doble puertas, la electricidad había sido instalada con cables superficiales, las ventanas y persianas estaban arruinadas…..pero todo el carácter de los departamentos de esa época estaban presente: desde las molduras de yeso, hasta las chimeneas de mármol, pasando por los guarda cuerpo de fierro de los balcones y la preciosa « enfilade » (alineamiento de varias piezas de recepción comunicando entre ellas por doble puertas) con puertas ventanas hacia el sur, inundando de luz el espacio.
La disposición de la cocina al lado opuesto del comedor era testigo de un modo de vida ya desaparecido: la re-ubicamos dentro del antiguo comedor, transformando ese espacio en cocina/comedor diario/estar (family room) y la ex-cocina en sala de TV/pieza de visitas.
La otra modificación importante fue de transformar el gigante segundo dormitorio en 2 dormitorios mas chicos , ganando espacio dentro del igualmente gigante pasillo, creando dos dormitorios para los niños.
El dormitorio principal se conecto a un dressing tomado sobre parte de la oficina, y a un bano en-suite creado en una esquina de la pieza. La oficina se achico, pero con estanterías hasta los 3m50 de alto, y una vista a los techos de Marseille, es un lugar muy agradable para trabajar.
En cuanto a los materiales utilizados en la restauración, aun remodelando bastante la disposición de las piezas, conserve todas las puertas de comunicaciones y las de los closet existentes para re ubicarlas: con sus capas de pinturas y sus defectos originales, siguen escribiendo la historia del lugar. Las puertas-ventanas y ventanas fueron manufacturadas al idéntico en roble, conservando las herraduras originales para el cierre.  El piso de madera de roble con acabado de aceite gris claro da el tono cálido y claro de la decoración. Los toques de color están dado por los muebles y cuadros.
Master bedroom: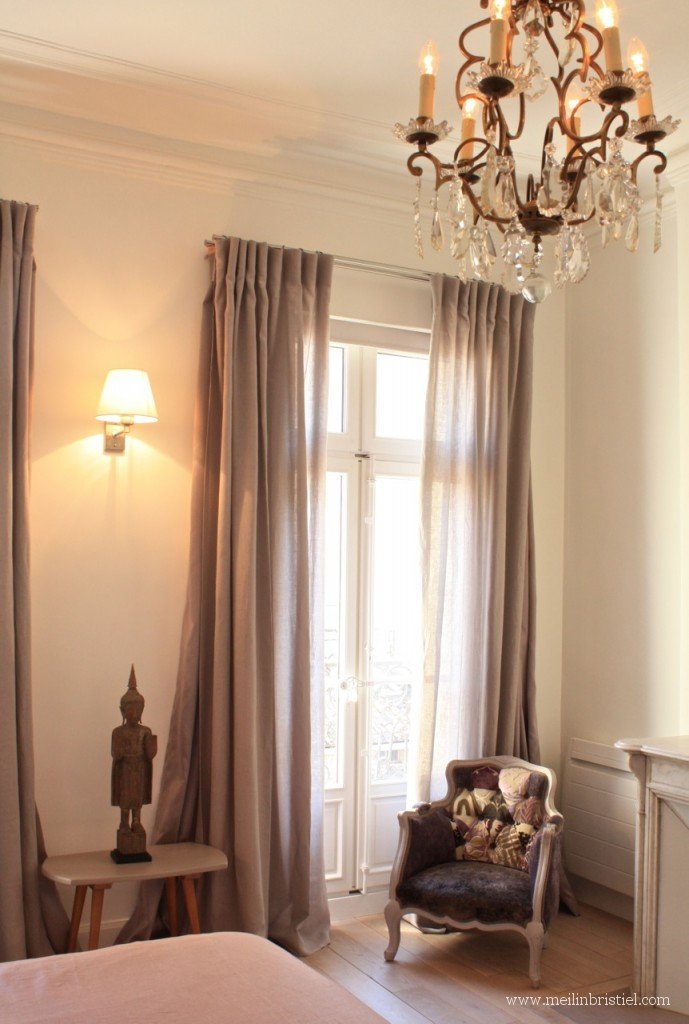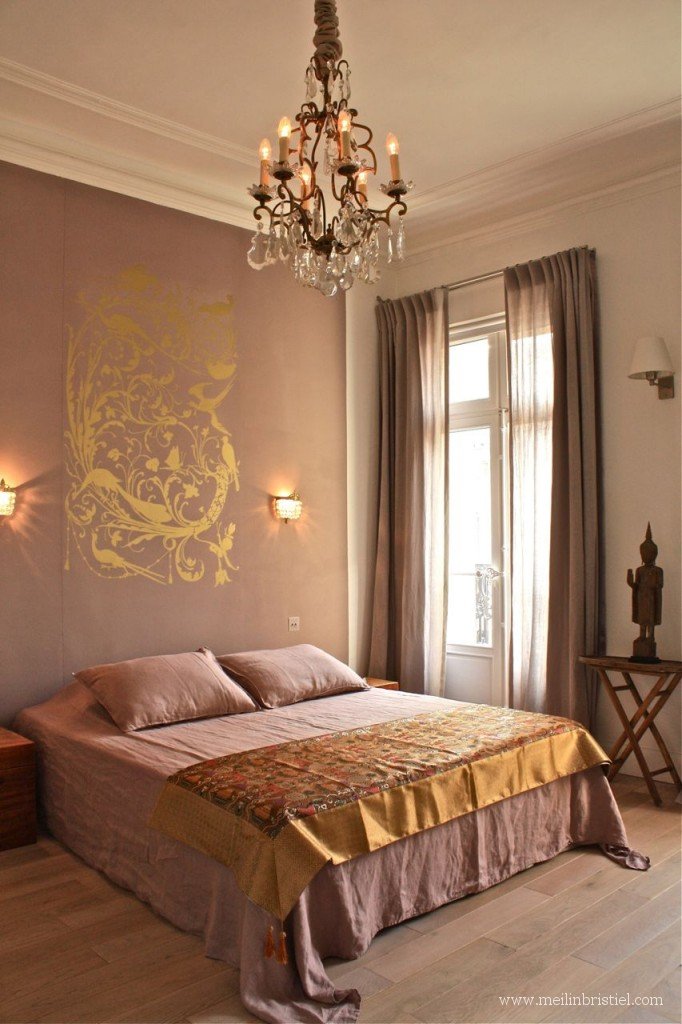 Baño/ salle de bain / bathroom
Kids bedrooms
Before:
After: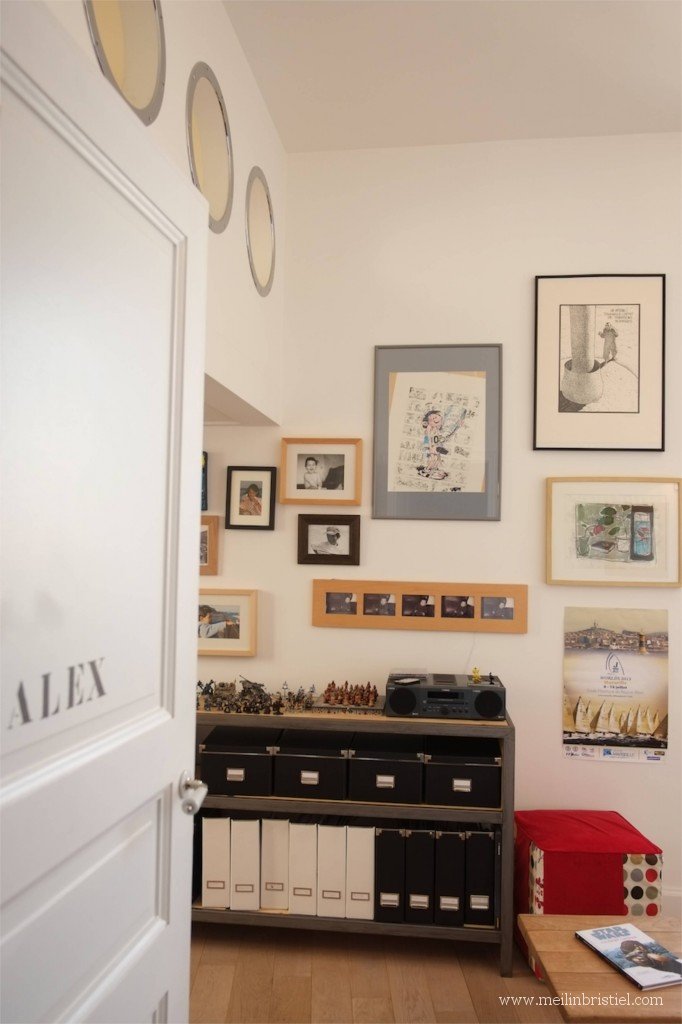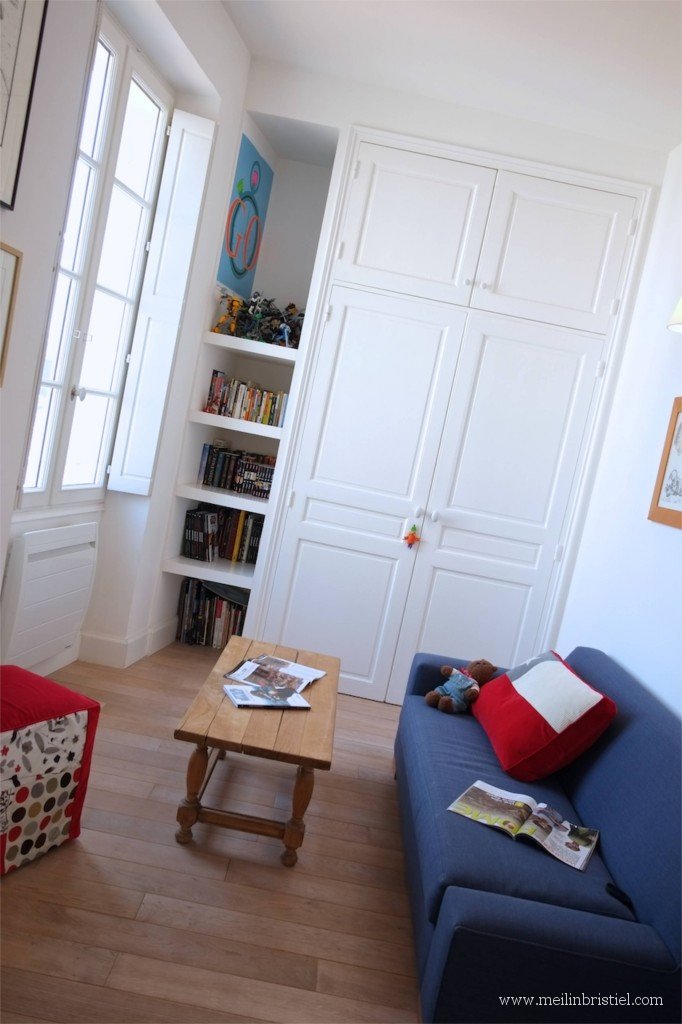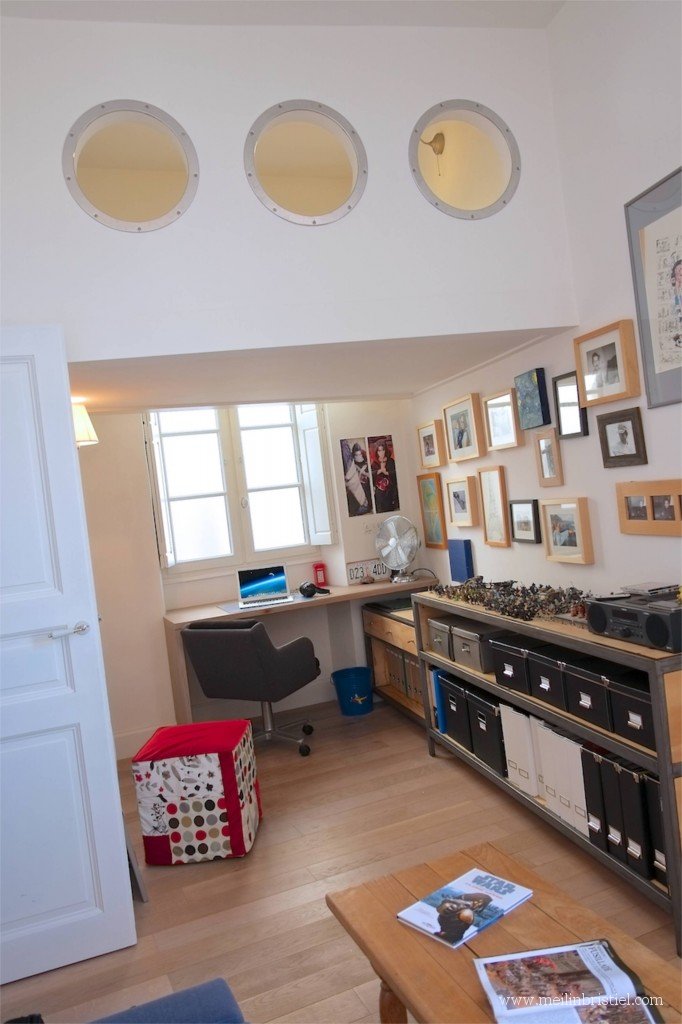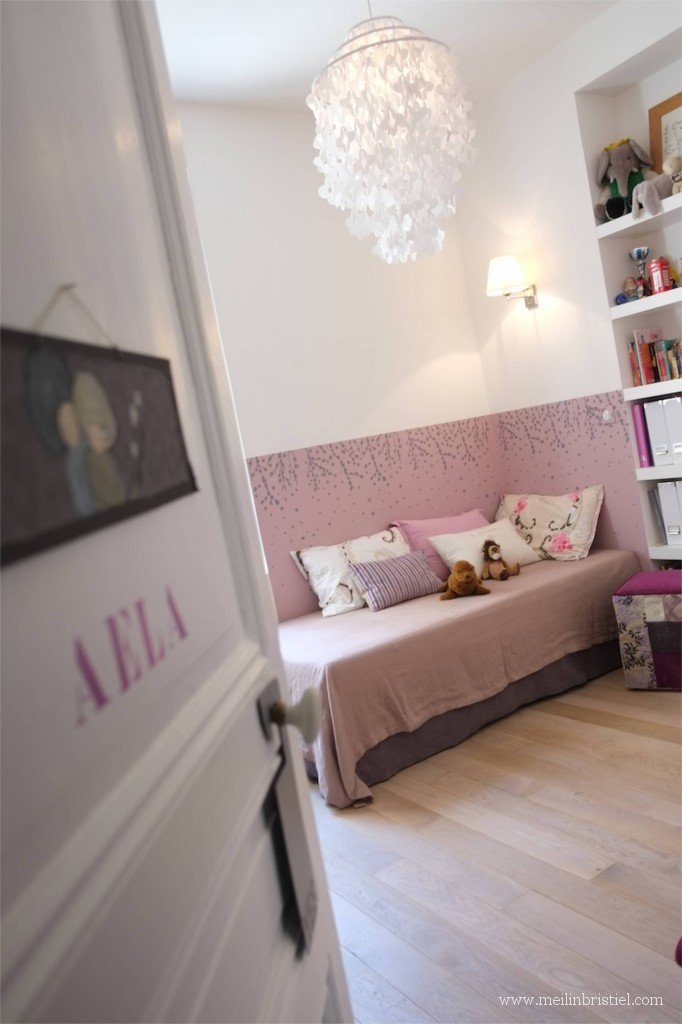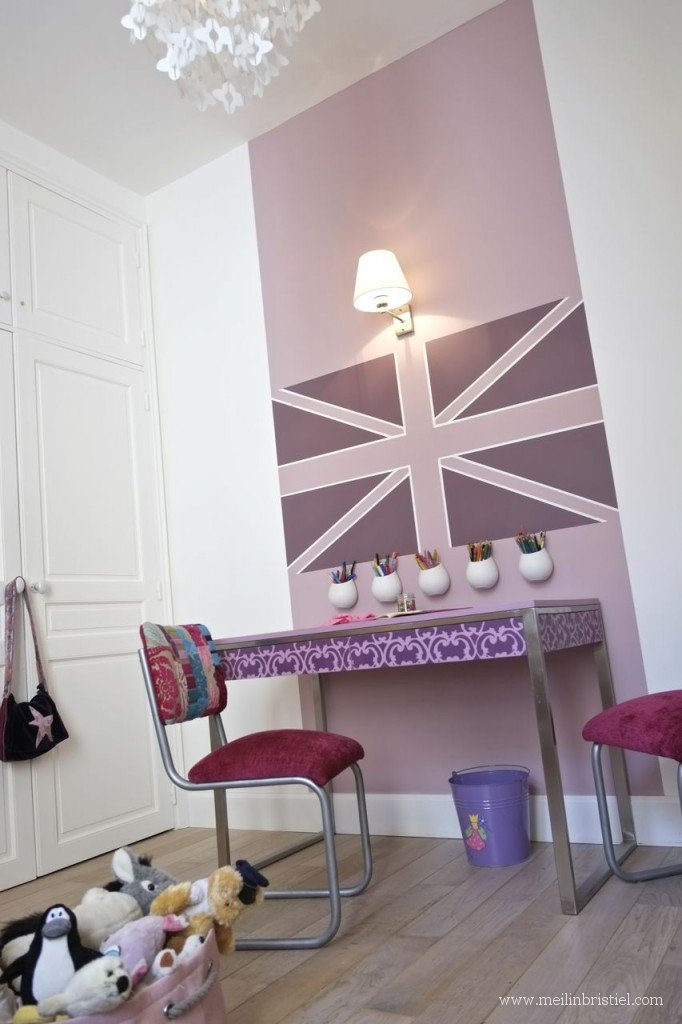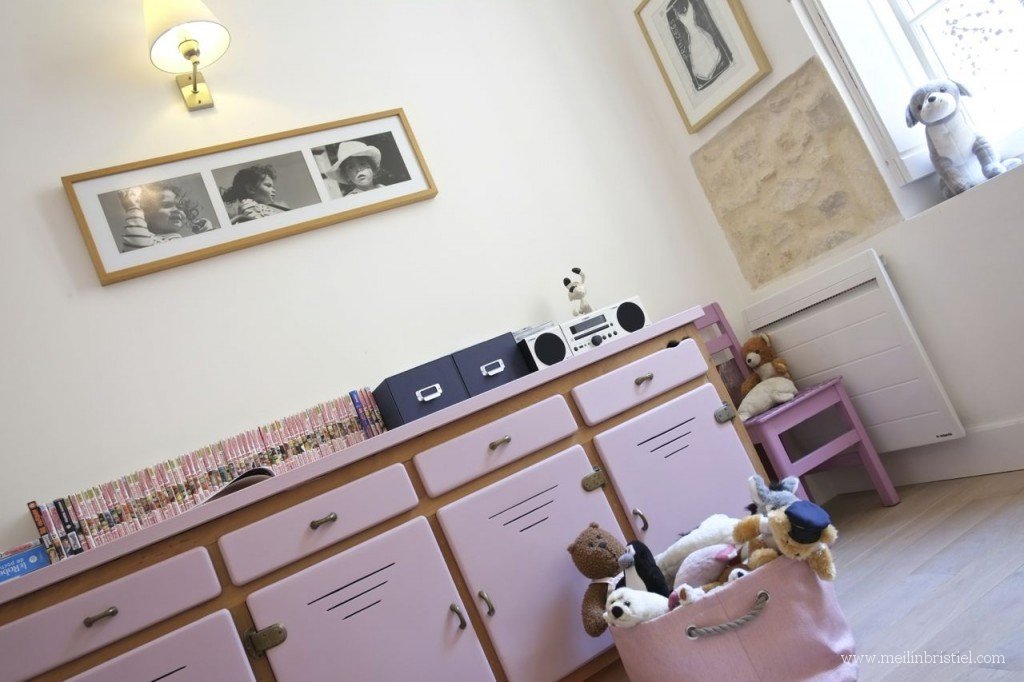 Home cinema / guest bedroom
Before:
After: